Radiation Therapy for Bladder Cancer
Radiation therapy for bladder cancer is used typically for men and women with the muscle invasive bladder cancer who are not candidates for surgical treatment with radical cystectomy.
[col type="one-fourth"]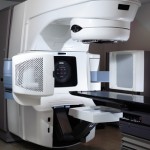 [/col]
[col type="three-fourth last"]
Radiation therapy for bladder cancer can also be used in combination with chemotherapy for patients who did not desire radical cystectomy. Radiation is therapy in this setting is used as part of bladder sparing treatment for bladder cancer.
While radiation therapy in combination with chemotherapy is believed to be fairly effective it is usually a second line option as it is believed that surgery for bladder cancer offers a better chance of cure and long-term survival.  Some studies show that combination of radiation therapy and chemotherapy can offer survival rates similar to surgery among selected patients.
[/col]